LEGOLAND® Malaysia Resort Introduces MINILAND Amazing Malaysia: Experience the Wonders of Malaysia in Miniature
Wednesday 13th September 2023
Press Office
Tourism, Theme Park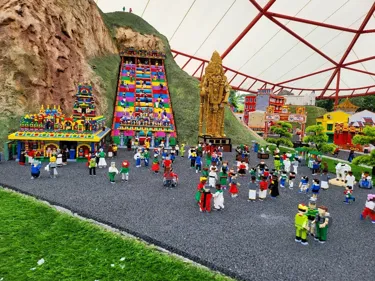 From 14 September, guests can interact with 126 new built-to-scale LEGO models of Malaysia's iconic landmarks.
ISKANDAR PUTERI, 13 September 2023 – As Malaysia approaches its 60th Anniversary on Malaysia Day, LEGOLAND® Malaysia Resort is pleased to unveil the MINILAND Amazing Malaysia. The newest attraction, crafted with over 1.38 million LEGO® Bricks, is a tribute to Malaysia's rich heritage and a testament to the resilience of the country's tourism industry.
Launching on 14 September 2023, MINILAND Amazing Malaysia invites guests to embark on a captivating journey through 126 meticulously crafted LEGO models, each representing a unique facet of the nation's diverse tapestry. Divided into sections that honor East Malaysia, West Malaysia, and the South China Sea, this 381m2 LEGO wonderland promises an immersive experience that transcends generations.
On this special occasion, MINILAND Amazing Malaysia offers a platform to showcase the cultural diversity, stunning landscapes, and iconic landmarks that define East and West Malaysia. Through these intricately detailed LEGO creations, guests will be inspired to return to Malaysia, exploring the real-life wonders they've discovered in miniature form.
Guests can anticipate discovering Malaysia's best-known landmarks in LEGO form, including the historic A'Famosa fortress, the vibrant tapestry of Jonker Walk, the captivating Batu Caves, and many more. MINILAND Amazing Malaysia is more than just a visual delight; it's an educational journey. Interactive displays throughout the exhibit offer glimpses into local stories and Malaysia's rich cultural tapestry, fostering a sense of curiosity and appreciation for the nation's heritage.
Guests will be transported into the heart of Malaysia, with a touch of LEGO humor. At the press of a button, they can watch a Wayang Kulit show with epic puppetry and traditional melodies, experience the thrill of a Penambang Boat Race on the bustling Sungai Sarawak, and witness Melaka's iconic Rickshaws adorned with flashing lights and pumping music as they parade through Dutch Square, among many other enchanting experiences.
From 15th to 17th September, LEGOLAND Malaysia will be going all out in its Malaysia Day celebrations with traditional Malaysian dances, soulful music, and captivating performances. During the celebratory weekend, guests can join the Kid's Traditional Fashion Show Contest. Young guests dressed in their finest Malaysian traditional attire during this period will have the chance to win prizes worth up to a total of RM3,000.
CS Lim, Divisional Director of LEGOLAND Malaysia Resort, shared his excitement, "At LEGOLAND Malaysia, education and entertainment go hand in hand. MINILAND Amazing Malaysia was created with the LEGO DNA of learning through play in mind. This is so learning becomes an adventure as guests explore the meticulously crafted scenes depicting Malaysia's past and present essence. Families can marvel at the intricate LEGO creations, participate in collaborative building challenges, and build memories that will be cherished for years to come. It is hoped that guests will get a taste of Malaysia's wonders with this one-stop visit at LEGOLAND Malaysia, sparking the desire for more adventures within Malaysia, in turn boosting the nation's tourism."
MINILAND Amazing Malaysia's creation was a labor of love, involving over 14,000 hours of construction time. Each LEGO monument was carefully ideated and built right here in Malaysia, under the skilled hands of Malaysian LEGO Model Builders[1]. It showcases the nation's iconic landmarks and stands as a tribute to local ingenuity and authenticity in each creation.
MINILAND Amazing Malaysia is set to be a landmark attraction that brings Malaysia to the world and invites the world to experience the wonders of Malaysia. As the nation celebrates Malaysia Day, let everyone embark on this miniature adventure together, inspiring a lasting love for the nation and enticing guests to return, exploring Malaysia's beauty and diversity.
To participate in the Kid's Traditional Fashion Show & Contest and more information on  MINILAND Amazing Malaysia, head over to the official website at https://www.legoland.com.my/explore/theme-park/rides-attractions/miniland-amazing-malaysia/ or LEGOLAND Malaysia social media pages on Facebook and Instagram.
[1] The Malaysian LEGO Model Builders are part of Malaysia's Merlin Magic Making team. Merlin Magic Making team is the team the ideates and creates the rides and attractions in LEGOLAND Malaysia Resort and global attractions under Merlin Entertainments.
Behind the Scenes of the Building of Amazing Malaysia
Christ Church Melaka is part of the Melaka MINILAND Amazing Malaysia area. The Melaka area was built with the most amount of Bright Red LEGO bricks than any other area in MINILAND Amazing Malaysia with about 20,000 LEGO bricks. The Christ Church alone has a total of 8,500 Bright Red LEGO elements and took 90 hours to build.
The Kota Kinabalu City Mosque, the largest mosque in Kota Kinabalu, is part of the Kota Kinabalu MINILAND Amazing Malaysia area. Don't forget to also catch the iconic Mount Kinabalu, which stands at a staggering 3.6m, making it the largest rockwork in the whole of MINILAND.
The Kek Lok Si Temple, the largest Buddhist temple in Malaysia, is part of the Penang MINILAND Amazing Malaysia area. The Kek Lok Si Temple was made of 3,200 LEGO Bricks and took 100 hours to build.