LEGOLAND® Launches SEA LIFE Education Program
Saturday 26th October 2019
Schools & Education, SEA LIFE Malaysia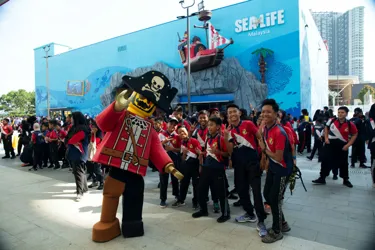 To celebrate this milestone LEGOLAND Malaysia Resort is giving away 10,000 free tickets to children and teachers from rural schools
ISKANDAR PUTERI, 26 October 2019 – Today, the Minister of Education Malaysia, YB Dr Maszlee Malik officiated the launching ceremony of SEA LIFE Education Program. The event extends LEGOLAND Malaysia Resort's commitment in nurturing children's creative skills and encouraging their growth and development through play-based learning. To celebrate this milestone, the resort is giving away 10,000 free tickets to students and teachers from rural schools, so that they can benefit from the interactive and engaging educational experience.
The SEA LIFE Education Program incorporates learning outside the classroom and engages children on scientific topics that are aligned to the national curriculum standard for preschool and primary schools in Malaysia.
"Education is at the heart of what we do here, backed by our LEGO® DNA of building creativity through play. The launch of SEA LIFE Education Program marks our commitment to offer a robust learning centre that stimulates our children's curiosity of the natural world and how they can help protect it. With the opportunities to work with the Ministry of Education and align our programs to the school curriculum, LEGOLAND Malaysia Resort is the perfect place for children to enjoy outdoor learning activities," said Thila Munusamy, Director of Sales & Marketing LEGOLAND Malaysia Resort
"We want to create an impact in our community through our CSR program. This November, we will welcome 10,000 children and teachers from underserved rural schools to benefit from our fun learning experiences. By working with the MoE and JPN, we are also able to expand our outreach to schools across the country with our EDUPLAY EXPRESS Bus. The bus brings our educational programs directly to students and offers them an exciting interactive out-of-classroom learning platform. To date, the bus has visited more than 1,000 schools in Peninsular Malaysia and this number is steadily growing," Ms. Thila continued.
The SEA LIFE Education Program encourages creativity and fosters innovation while ensuring children acquire scientific knowledge and skills. Each activity has been evaluated and tested. Some of the programmes include:  
Little Marine Biologist – Children get to be marine biologists for a day through activities such as using a microscope to observe microorganisms.
Let's Build A Food Chain – Children learn about the food chain by using their creativity to build their own LEGO version.
Why Recycling Matters to Marine Animals – Children will learn about recycling and the impact of pollution on nature with a fun and interactive experiment.
Students and teachers looking for more information about the SEA LIFE Education Program or CSR initiative including Educators can also head over to https://www.legoland.com.my/book-visit/education/education-package/  to find packages for school field trips to experience all the LEGOLAND® Education Program workshops available in the park and SEA LIFE Malaysia.