LEGO Themed Buffet Dinner Featuring Flavours of Nusantara Returns to LEGOLAND Malaysia Resort
Friday 17th March 2023
Press Office
LEGOLAND Hotel, Events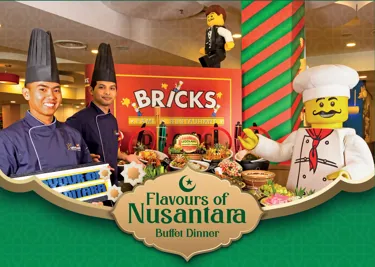 Diners can enjoy the early bird promotion by booking their session before 22nd March
ISKANDAR PUTERI, 17 March 2023 – LEGOLAND® Malaysia Resort is excited to announce the return of its Flavours of Nusantara Buffet Dinner at Bricks Family Restaurant, LEGOLAND Hotel from 23rd March to 21st April 2023. Guests can now celebrate the spirit of togetherness by indulging in the mouthwatering selection of more than 200 Nusantara dishes in the amazing and unique LEGO setting.
Diners can experience local and international cuisines such as delicious roast lamb, rendang, juicy satay, curries, soups, bubur lambok, ulam-ulaman, live stalls and many more. To enhance the family dinner experience, LEGOLAND Hotel has arranged enthralling cultural performances, acoustic band, and LEGO characters appearances at the restaurant. LEGOLAND Hotel also offers guests with a designated prayer room for guests to perform their religious duties comfortably before they break their fast.
"Since the launch of our Nusantara-themed buffet in 2019, we have received overwhelmingly positive response. Diners keep coming back for the unique ambiance and amazing culinary journey that our team takes them on. Due to popular demand, we have chosen to run the Flavours of Nusantara buffet again this year with more tantalizing dishes, made with high-quality and halal-certified ingredients," said CS Lim, Divisional Director at LEGOLAND Malaysia Resort.
"Diners can also look forward to more Raya-themed traditional and modern performances, one of the highlights of our dining experience. Our LEGOLAND Hotel team is delighted to chosen as the destination for diners to spend quality time with their family during this period and hope to give them an unforgettable experience with every visit.," CS Lim added.
Welcoming this season of togetherness, LEGOLAND Hotel offers the dinner with some of the best deals:
Flavours of Nusantara Pricing and Promotion

Flavours of Nusantara Buffet Price

*For bookings made after 22nd March

Adult (12 & above)

RM 168

Child (5-11) / Senior (60 & above)

RM 85

Exclusive Annual Pass Deals

*10% off retail price

Adult (12 & above)

RM 151.20

Child (5-11) / Senior (60 & above)

RM 76.50

Early Bird Deals

*For bookings made before 22nd March

Adult (12 & above)

RM 138

Child (5-11) / Senior (60 & above)

RM 70
Wait no more and treat your loved one to a delightful dining experience. Advance bookings are welcome to secure your seat via contact +607 560 3808 ext 3884 or email admin.fnbhotel@legoland.my.