LEGOLAND® Malaysia Resort Unveils New Shaded Structures in the MINILAND Area
Tuesday 30th May 2023
Press Office
Theme Park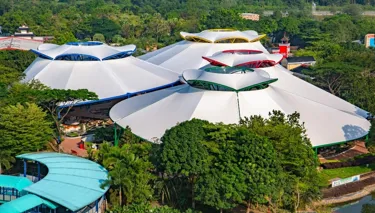 Guests can now beat the heat and rain to explore the unique world of LEGO® in comfort
ISKANDAR PUTERI, 30 May 2023 – LEGOLAND® Malaysia Resort has launched a 5-storey tall shaded structure that covers the whole MINILAND area. The shaded structure is LEGOLAND Malaysia Resort's latest and coolest enhancement that promises to give guests a more refreshing way to enjoy the life-size LEGO® structures housed in the MINILAND area.
"With the new shades covering the MINILAND area, guests can soak in the atmosphere and truly experience our life-size LEGO structures of Asia's iconic landmarks in comfort. We have been planning and building these shaded structures for a long time and it is heartwarming to finally see our guests able to enjoy them," CS Lim, Divisional Director at LEGOLAND Malaysia Resort.
Supported by a total of 405,718 kg worth of steel, the shade structure stands at 18-meters and covers an impressive area of 8,663 m 2, the size of 106 badminton courts. All four shaded structures took about 9 months to construct and represents one of LEGOLAND Malaysia Resort's largest and newest enhancements in 2023.
A Cooler MINILAND Experience
At MINILAND, guests can learn and explore Asian cultures all in one place. A magnificent masterpiece built with over 30 million LEGO® bricks, MINILAND displays iconic landmarks from 17 Asian countries, such as Kuala Lumpur's Petronas Twin Towers, Singapore's Merlion Park, India's Taj Mahal, Indonesia's Tanah Lot as well as Malaysia's own Johor Pride, Istana Bukit Serene. Many of these iconic attractions include animated effects at the touch of a button to immerse guests fully in the historical nostalgia of these landmarks. These interactive experiences help guests of all ages "travel the world" and explore different cultures and history in a closer and more fun setting – all without breaking a sweat.
Something New at Every Visit
Guests who have visited LEGOLAND® Malaysia recently may have noticed construction happening in MINILAND. Something spectacular is brewing – or should we say building?
LEGOLAND Malaysia continues its promise to give guests new experiences with each visit. Guests can look forward to exciting new announcements in the coming months in MINILAND alongside a new theme at the LEGOLAND Hotel Room and a new thrilling LEGO 4D Movie.
To fully enjoy LEGOLAND Malaysia Resort, guests need more than one weekend. Thus, Malaysian guests should take advantage of the automatic Annual Pass upgrade available with the purchase of a triple park day ticket at full price. Annual pass holders have unlimited access to LEGOLAND Malaysia for one year and a host of benefits and discounts throughout the validity period.