LEGOLAND® Malaysia Resort Previews Latest Attraction, MINILAND Amazing Malaysia
Wednesday 14th June 2023
Press Office
Theme Park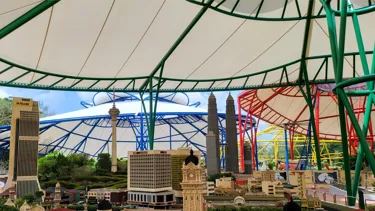 Unique Malaysian Landmarks, Culture and History to be memorialized with  interactive built-to-scale LEGO® Models
ISKANDAR PUTERI, 14 June 2023 – In an exclusive session, Malaysian media had a sneak peek of LEGOLAND® Malaysia Resort's plans for the brand-new built-to-scale LEGO® Models depicting the beautiful landscapes, architecture, and culture from east to west Malaysia. The models memorializing Malaysia's diversity in LEGO bricks dubbed MINILAND Amazing Malaysia, is slated to be housed in LEGOLAND Theme Park and launched by August 2023.
Based on initial 3D renderings of MINILAND Amazing Malaysia, guests can expect to experience unique heritage sites such as the cultural atmosphere in Kota Bahru, Kelantan, the breathtaking landscapes of Mulu Caves, Sarawak and the hustle and bustle of Georgetown, Penang.
MINILAND Amazing Malaysia will be an interactive experience – with 2-player games and action-packed animations to be discovered throughout the dedicated 381m2 area. Guests will find themselves pulled into unique Malaysian stories and cultural moments without leaving the resort. Some of these scenes could come right out of their childhood and bring up nostalgic memories such as catching a stage performance at Jonker Walk, a late-night mamak hangout session, and playing sepak takraw with the neighborhood kids.
"In Malaysia, we have so many beautiful destinations filled with incredible architecture, landscapes, culture, and history – making it an obvious choice when we were looking to give MINILAND a new area that will WOW our guests. Through the immersive experiences in MINILAND Amazing Malaysia, guests will be able to get a taste of Malaysian destinations with just one stop at LEGOLAND Malaysia Resort. We are hopeful that after a trip to Amazing Malaysia, guests will be inspired to plan their next Malaysian adventures - which will in turn boost tourism to benefit our economy and the rakyat," CS Lim, Divisional Director, LEGOLAND Malaysia Resort.
At the preview attended by Scott O'Neil, the Chief Executive Officer of Merlin Entertainments, LEGOLAND Malaysia shared that the new MINILAND Amazing Malaysia is scheduled to be completed and installed in 2 months and is expected to take up to 14,000 hours of construction time. Amazing Malaysia will be built with 1.38 million LEGO Bricks and will feature 126 built-to-scale LEGO Models divided into East Malaysia, West Malaysia, and South China Sea. 
A Cooler MINILAND Experience
In the meantime, guests planning to visit LEGOLAND Malaysia Resort can still make a stop into MINILAND to enjoy the new 5-storey tall shaded structure that covers the entire area. Guests can enjoy a cooler and more comfortable experience while they interact with the magnificent LEGO masterpieces built with over 30 million LEGO bricks showcasing famous attractions from 17 Asian countries.