LEGOLAND® Malaysia Resort di tahun 2023 ini siap menerima wisatawan dari Indonesia
Wednesday 8th March 2023
Press Office
Water Park, SEA LIFE Malaysia, Theme Park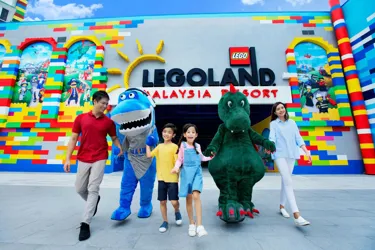 Incredible in-park shows and activities are designed to help guests express individuality and diversity in the modern world
LEGOLAND Malaysia Resort di tahun 2023 ini kembali menghadirkan berbagai rangkaian atraksi dan aktivitas menarik bagi wisatawan dari negara tetangga termasuk Indonesia. Berbagai rangkaian atraksi dan aktivitas tersebut menegaskan bahwa LEGOLAND Malaysia Resort tetap menjadi destinasi wisata keluarga pilihan di kawasan Asia Tenggara.
Selepas masa Pandemi akibat Covid-19, kini diharapkan pertumbuhan kunjungan di tahun 2023 mulai bangkit, LEGOLAND Malaysia Resort siap menjadi destinasi wisata hiburan dan edukasi bagi keluarga, baik untuk anak-anak maupun orang dewasa yang aman dan nyaman.
C.S. Lim, Divisional Director of LEGOLAND Malaysia Resort, menyatakan bahwa tahun ini LEGOLAND Malaysia Resort akan mengisi agenda di tahun 2023 dengan berbagai atraksi seru dan wahana-wahana menarik. "Untuk itu kami akan bekerja sama dengan Tourism Malaysia untuk mempromosikan program kami di tahun 2023. Dengan demikian kami yakin akan banyak wisatawan dari Indonesia maupun negara-negara di kawasan Asia Tenggara yang akan berkunjung dengan aman dan nyaman selepas masa pandemi," ujarnya.
LEGOLAND Malaysia Resort terdiri dari LEGOLAND Theme Park, LEGOLAND Waterpark, SEA LIFE Aquarium dan LEGOLAND Hotel, yang keempatnya menyatu dalam satu kawasan, di negara bagian Johor, Malaysia.
LEGOLAND Theme Park menghadirkan 40 wahana yang terbagi dalam 8 kawasan bertema, mulai dari The Beginning, LEGO® City, LEGO Technic, LEGO Kingdoms, Land of Adventure, Imagination, LEGO NINJAGO® World dan Miniland.
LEGOLAND Waterpark menghadirkan lebih dari 20 wahana air nan unik, seperti LEGO® Slides Racer, Wave Rider, Brick Blaster dan lainnya, yang juga menampilkan 70 model LEGO diantara berbagai atraksi.
SEA LIFE Malaysia menjadi tempat bagi 13.000 mahluk laut dari 120 spesies, yang ditempatkan dalam 25 Aquarium yang mewakili 11 zona laut.
LEGOLAND Hotel menyediakan 263 kamar yang masing-masing mempunyai tema menarik seputar LEGO mulai dari ninja, pirate, kingdom dan adventure. Ditambah dengan berbagai sajian permainan LEGO di seluruh area hotel, mulai dari lobby, area bermain hingga restoran.
Kesemuanya juga dilengkapi dengan berbagai restoran, dan toko souvenir yang menarik The Big Shop, toko souvenir LEGO terbesar di Asia Tenggara yang menyediakan beragam permainan LEGO dan souvenir LEGOLAND terlengkap.
Adapun rangkaian atraksi dan aktiftas terbaru di tahun 2023 adalah:
LEGO Friends Party: dari sekarang hingga 9 April, pengunjung dapat bertemu karakter baru LEGO Friends di LEGOLAND Malaysia Resort melalui kegiatan menyenangkan yang direncanakan, belajar bagaimana berteman lebih baik untuk diri mereka sendiri dan orang lain.
Tema-tema baru kamar hotel: akan hadir beragam interior terbaru dengan pilihan tema-tema LEGO pada kamar hotel, tema NINJA, Pirate, Adventure dan Kingdom.
Aidil Fitri Raya: pengunjung akan merasakan kemeriahan Hari Raya dengan beragam nuansa Aidil Fitri melalui pernak-pernik, atraksi dan beragam acara seru di LEGOLAND Malaysia Resort.
MINILAND Berbayang & Peluncuran Klaster Miniland Baru: Pada bulan Juni, LEGOLAND Malaysia akan meluncurkan tampilan baru di MINILAND guna memberikan paratamu cara yang lebih nyaman untuk menikmati replika balok dari landmark-landmark terkenal di seluruh dunia. LEGOLAND Malaysia juga akan meluncurkan atraksi terbarunya, yaitu landmark ikonik baru yang dibangun dari balok LEGO.
Water Park Splash Carnival: nikmati keseruan festival dalam karnaval air menakjubkan.
Brick-or-Treat Monsters Party: Rasakan keseruan Halloween dengan kehadiran beragam monster LEGO®.
New 4D Movie, akan ada film-film LEGO terbaru mulai Agustus 2023.
Brick-Tacular Holidays, akan memeriahkan masa liburan sekolah anak-anak dengan menghadirkan pohon natal LEGO® DUPLO® tertinggi di Asia Tenggara.
Web Promo
Wisatawan dari Indonesia akan mendapatkan paket promo menarik dari LEGOLAND® Malaysia Resort; Get 15% off on:
-             1-Day Theme Park ticket,
-             1-Day Theme Park and SEA LIFE ticket,
-             1-Day Theme Park, Water Park & SEA LIFE ticket