216 Local Students Win Big in The Planet LEGOLAND® School Challenge
Sunday 2nd October 2022
Press Office
Events, Rebuild The World, Theme Park, Schools & Education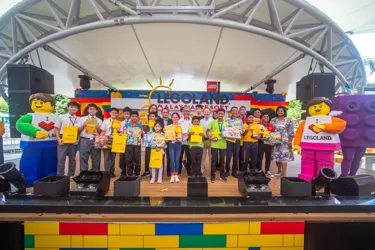 Winners received prizes worth up to RM81,000 and a trip to LEGOLAND® Malaysia Resort
JOHOR BAHRU, 2 October 2022 – LEGOLAND® Malaysia Resort has announced the 216 winners of the inaugural Planet LEGOLAND School Challenge. Among the 200 submissions from schools nationwide, 12 LEGO® Builds were selected as the most creative and innovative representation of the challenge theme, "Pride of Your State".
The Planet LEGOLAND School Challenge was launched to inspire students to unleash their imaginations and create the worlds of their dreams with LEGO®. With the support of the Ministry of Education, public school students could opt to participate in the school challenge as their co-curricular activity. Winners of the challenge received a trip to LEGOLAND Malaysia Resort, a grand trophy made of LEGO bricks and cool prizes worth up to RM81,000.
"Our partnership with LEGOLAND Malaysia Resort continues to yield innovative initiatives that produce successful results such as the Planet LEGOLAND School Challenge. LEGOLAND Malaysia Resort is truly one of Johor's rare gems, offering tourists a unique edutainment destination that they can't get anywhere else in the region. Going into 2023, we plan to leverage partnerships such as the ones we have with LEGOLAND Malaysia to boost Edu tourism in Johor and give tourists more reasons to visit Johor," said YB Tuan Raven Kumar a/l Krishnasamy, Chairman of the Tourism, Environment, Heritage and Culture.
"We are blown away by the positive response that we have received to the Planet LEGOLAND School Challenge from schools nationwide. The submissions truly showcased the creativity and talent that our students can achieve outside the classroom. This initiative has shown us that there is a strong appetite from students and teachers alike for an outdoor learning environment. We plan to continue working with strong partners such LEGOLAND Malaysia to drive education initiatives that foster a robust learning experience for our future generation," YB Cik Norlizah Binti Noh, Chairman of Education, Information and Communication added.
During the awards ceremony, LEGOLAND Malaysia shared their plans to make the Planet LEGOLAND School Challenge an annual initiative that will be open to international school submissions from 2023 onwards. The winning LEGO brick creations will be on display at LEGOLAND Malaysia Resort until March 2023 for guests to appreciate.
"The participation that we received warmed our hearts. These students dug deep into their creativity and constructed LEGO Builds that we could not fathom in our wildest imagination. Seeing what Malaysian students can achieve with LEGO bricks reinforces our confidence that by incorporating our LEGO DNA of learning through play within our resort, we can cultivate creative thinking and a positive attitude towards learning for all," said CS Lim, Divisional Director at LEGOLAND Malaysia Resort. "We are grateful for the support and endorsement that we have received from the Malaysian government to make Planet LEGOLAND School Challenge a success. We hope to continue working closely with them to reinvigorate the tourism industry and propel Malaysia to the future of education."
For more information about the Planet LEGOLAND Education Initiative, parents, educators, and students can find out more on LEGOLAND Malaysia's official website. For latest updates on promotions and activities, stay connected via Facebook and Instagram.