HOP ON THE LEGOLAND ® EDUPLAY EXPRESS WITH EXCITING OUTDOOR LE A R NING EXPERIENCE SPECIALLY DESIGNED FOR STUDENTS IN SCHOOLS AND KINDERGARTENS
Saturday 13th August 2016
Press Office
Events, Schools & Education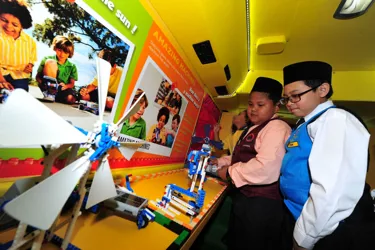 Smashing, interactive, engaging and fun educational programs with Interactive education packages for schools with more saving, freebies and workshops
Kulai, 13th August 2016 – From Johor to Penang, LEGOLAND® Eduplay Express is now actively roaming around the cities to meet its biggest fan – the students, from all over Malaysia. The smashing, interactive, engaging and fun  educational programs will definitely capture the future leaders of Malaysia to have exciting hands-on of LEGOLAND® Malaysia Resort's Education experience in their schools.  
The LEGOLAND EduPlay Express objectives were to promote awareness and to showcase the Education Programs available in LEGOLAND Malaysia Resort which, are STEM (Sains, Technology, Engineering and Mathematics) and English Mania. The embark of the outreach program was a continuation effort  from the recently launched of the newest education program, English Mania which was officiated by YB. P. Kamalanathan in February this year. The LEGOLAND EduPlay Express is set to give the students and teachers the exposure of out of classroom learning, hands-on experience and to encourage the students to discover new things through creativity and imagination with LEGO.
Thila Munusamy, Director of Sales and Marketing said: "Apart from creating the hype as an ideal one-stop edutainment Theme Park while going around schools and kindergartens, the effort that we have established to introduce the LEGOLAND EduPlay Express was fully supported by the Ministry of Education. This gives us the confidence that the students from the schools and kindergartens will totally benefit from the programs that we have crafted. The recent English Mania program that was designed for students and teachers was on par with Malaysia's education syllabus, where it is formed under the supervision of well experienced teachers. Learning should be fun for all students and by transforming LEGOLAND Malaysia Resort into a huge outdoor classroom, the students will have an enjoyable platform to learn". She also added that "Our educational programs are about inspiring big ideas among the next generation of scientists, engineers, artists or even a new generation of English teachers".
LEGOLAND Malaysia will also introduce its "Visit Again" promotion package for schools that have visited us in 2015 or early this year. This package was designed as a thank you gift for schools and kindergartens that have supported us as well as to celebrate the upcoming of our LEGO NINJAGO: The Ride in November. This great offer will include awesome hands-on workshops and unlimited fun at the Theme Park, Water Park and meal vouhcer worth RM 15 for as little as RM 75* per student.
For more information on the LEGOLAND EduPlay Express and LEGOLAND Malaysia's school packages, please visit the LEGOLAND Malaysia website: www.legoland.my
-END-
What is LEGOLAND® EduPlay Express Outreach Program?
Gives a sneak peek of the Education Programs which are offered by LEGOLAND Malaysia Resort and is endorsed by MOE right to the doorstep of the schools
Extend opportunity for the bus to visit schools after signing up with the LEGOLAND Malaysia Resort school package
What are the activities?
Funtastic Gears – 2 models ( Spin top & Robot Duplo )
Tall towers – 2 models of tower (display only)
Amazing Machines-3 models ( Crane, Car, hammer)
Energy Lab-2 models (windmills, crank)
Get Moving -Race cars 5 sets (Bricks), Race Track 1set (Duplo)
Robotics- Dr heart beat robot including tools
Ev3 robot (Gyro or Elephant) including tools (display only)
English Mania – English-based learning programme with a workbook