LEGOLAND® Malaysia Resort Marks 10 Years of Awesomeness with Exciting News!
Thursday 11th August 2022
Press Office
Theme Park, Water Park, SEA LIFE Malaysia, Events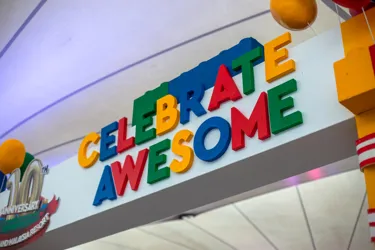 LEGOLAND® Malaysia Resort invites guests to celebrate its 10th Anniversary milestone with an exciting line-up of new and enhanced activities.
KUALA LUMPUR, 11 August 2022 – LEGOLAND® Malaysia Resort invites guests to celebrate its 10th Anniversary milestone with an exciting line-up of new and enhanced activities. Guests can also look forward to building more precious memories with friends and families with awesome month-long activities especially for this momentous celebration.
"Being the first of its kind in Asia, LEGOLAND Malaysia Resort never stops offering fresh, fun, entertaining, and educational experiences for the past 10 years. We will continue to build on our passion and commitment to providing our guests with a truly unique experience that is only available in LEGOLAND," said CS Lim, Divisional Director at LEGOLAND Malaysia Resort.
He added, "We want to take this opportunity to express our sincere gratitude to guests, partners, and the government for the unwavering support shown. We will continue to challenge our boundaries with new offerings that are of great value and bring our guests new experiences at every visit."
LEGOLAND Malaysia Resort is dedicated to providing a one-stop holiday destination for friends and families by bringing them together for a different experience with each visit. In addition to the well-loved annual festivals and activities, guests can look forward to a series of enhancements for 2023 and beyond.
Shaded MINILAND - Guests can walk around comfortably under new shades with cooling fans while browsing through iconic landmarks of LEGO builds from January 2023 onwards.
Refurbished LEGOLAND Hotel Rooms with New Themes – Fellow explorer friends should look forward to experiencing the up-and-coming new themed room that will be joining the current offerings of PIRATE, KINGDOM, ADVENTURE and NINJAGO in the 1st quarter of 2023.
First Ever Splash Carnival – Fans can look forward to the first ever water park festival for special shows, activities, friendly challenges and more while enjoying a splashing good time in Mid 2023 at the LEGOLAND Water Park.
New Thrilling 4D Movie at LEGO Studio - LEGO fans rejoice as the Resort will be bringing immersive cinematic experience to a whole new level with a new 4D Movie that will only be available at the LEGO Studio around third quarter of 2023.
Above and beyond, LEGOLAND Malaysia Resort will continue hosting larger scale annual festive events celebrating key holidays such as Hari Raya, Chinese New Year and more.
In the coming year, guests can also look forward for LEGO themed events like Build the Thrills and Friendship Fest that are uniquely available in LEGOLAND Malaysia Resort.
Meanwhile, for the rest of this year, guests can immerse themselves in the new world of mythical creatures with LEGO MYTHICA 4D movie, a spookily fun Brick-or-Treat Monster Party featuring a brand new 4D movie and the spectacular Brick-Tacular Holidays to end the year with a bang.
"The investments and enhancements are in line with our strategic priorities to draw new and repeat visitations from domestic and international tourists to LEGOLAND Malaysia Resort. We are optimistic about the industry's recovery and are fully supportive of the tourism revitalizing plans developed by the government with our new enhancements, activities, and promotions ahead," said CS.
Commemorating the momentous occasion, LEGOLAND Malaysia Resort is constructing a 12-feet tall LEGO Anniversary Cake made of more than 90,000 LEGO® DUPLO® bricks. Designed with a touch of Malaysian flair, the Anniversary Cake will feature the Hornbill, Wau, and Hibiscus flowers and will be displayed for guests from 26 August onwards.
What Else to Expect at LEGOLAND Malaysia Resort's 10th Anniversary Celebration
In addition to the grand LEGO cake, LEGOLAND has planned a bevy of activities for the big celebration such as:
Build Your Very Own LEGO DOTS Mosaic:
Set your inner creativity free and create bold and colourful mosaic using LEGO DOTS. Your masterpiece will be featured in our LEGO DOTS booth for other guests to enjoy.
Best Birthday Shows Ever:
Think about every show you've ever wanted at your birthday party like Bubble Shows, Magician's extravaganza, Professional Balloon Sculptors, and Dance performances. LEGOLAND Malaysia will bring all of them to life at the resort so don't miss your favourite show.
Meet and Greet:
Meet and party with some of your favourite LEGO characters such as Emmet, Olli The Dragon, Bricky, and our newest LEGO Character Friends.
10th Birthday Lucky Draw
Stand a chance to win prizes worth up to RM50,000. For a chance to spin the Lucky Wheel and win LEGOLAND Hotel Stay, LEGOLAND Day tickets, LEGOLAND Annual Passes, LEGO Sets, and exclusive LEGOLAND merchandise, guests only need to make a minimum spend of RM99 at any retail store in LEGOLAND Malaysia Resort. Draws are hosted every Friday to Sunday and on Public Holidays. There will also be a special one-day only draw on Thursday, 15 September 2022.
Birthday Themed Activities
Try your hand at our balloon sculpting workshop and bring home your best work
Participate in friendly basketball challenges at the Slam Dunk Fun corner to win amazing prizes
Hunt for the hidden cupcakes around the Resort and stand a chance to win a prize for the Treasure Hunt activity
A Taste of LEGOLAND At AEON Malls nationwide
LEGOLAND Malaysia will be taking the 10th anniversary celebration to AEON Malls nationwide from 30 August to 2 October. AEON shoppers can have a taste of the one-stop family destination experience at the LEGOLAND AEON Roadshows happening in select locations.
At the LEGOLAND Roadshows, shoppers will be able to see a replica of the 12ft tall LEGO Anniversary Cake, join in some LEGO cake building activities and speed building contests.
In addition to enjoying some of the interactive displays and activities, AEON shoppers stand a chance to get exclusive LEGOLAND discounts and vouchers – especially on weekends when the EDUPLAY Express bus might make a surprise visit.
For more information on LEGOLAND Malaysia Resort's 10th Anniversary Awesome Celebration, head over to the official website at https://www.legoland.com.my/explore/shows-entertainment/10th-anniversary/ or LEGOLAND social media pages on Facebook and Instagram.
###
10th ANNIVERSARY CELEBRATION at LEGOLAND Malaysia Resort
LEGOLAND Exclusive Deals

Birthday Kids Go Free

Children aged 11 and below can enter LEGOLAND Malaysia for FREE on their Birthday Week with the purchase of a 1-Day Double Park or 1-Day Triple Park adult ticket.

 

Birthday Guests under the age of 11 will also receive a surprise, button badge and RM20 retail voucher*.

Triple Park Pass Birthday Child Brings their Friend for Free

Children aged 11 and below with a valid Triple Park Annual Pass can bring their FRIEND/FAMILY for free on their Birthday Week (limited to ONE Double or Triple Park CHILD ticket only)

 

Birthday Guests under the age of 11 will also receive a surprise, button badge, and RM20 retail voucher*.

Triple Park Annual Pass Holders Bring-A-Friend at 50% off

Customers with a Triple Park Annual Pass can bring a friend to enjoy 50% off a 1-Day Single Park, 1-Day Double Park or 1-Day Triple Park ticket , limited to 4 tickets per day. This promotion ends 31 August 2022.

10% off on F&B for Annual Pass Holders

Customers with Annual Pass will get an additional 10% off on F&B, which ends 30 September 2022.
*available while stocks last
Note: All promotions are exclusively available on the official LEGOLAND Malaysia Resort website. Retail offers are also available at the Resort and the online store.