Keeping Traditions Alive at LEGOLAND® Malaysia Resort this Lunar New Year
Thursday 2nd January 2020
Press Office
Lunar New Year, Events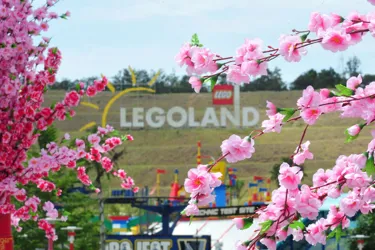 Get ready for a traditional celebration & activities with a LEGO touch fit for the whole family
ISKANDAR PUTERI, 2 January 2020 – LEGOLAND Malaysia Resort invites families to spend their lunar new year celebration cherishing and learning about the Chinese heritage and traditions through the magic of play. This year, in celebration of the Year of the Rat, the resort will be hosting many exclusive themed activities that families can participate to make this reunion one to remember.
To kick off the new year on the 25th and 26th January, LEGOLAND will be hosting the first ever Lunar New Year concert where guests can admire graceful Chinese folk dancers, acrobatic High Pole Lion Dance, enigmatic face changing performance & more. Aside from the high-energy cultural show, the resort will be hosting The Rat Race where families have to work as a team to complete activities such as making their very own LEGO Zodiac Rat or contributing to building LEGOLAND's Giant LEGO Orange, and participating in traditional Chinese yoyo activities and games. Race winners will receive a limited edition prize.
"We believe that it is important to preserve the traditions and cultures celebrated in Malaysia through education especially for our next generation. At LEGOLAND, we incorporate a touch of LEGO DNA to what we offer, making it an exciting educational experience for all. This year, our activities are centred around teaching our guests all about the traditional activities and performances around the Lunar New Year.. We hope that it sparks the interest of our young visitors to learn more about the Chinese heritage and culture", said CS Lim, General Manager at LEGOLAND Malaysia Resort.
More Fun-tastic Cultural Activities
From 18th January to 9th February, families will find many fun Lunar New Year themed activities around LEGOLAND® Malaysia Resort including: -
Monkey King Appearance – Spot the Monkey King as he parades around the park causing mischief.
The Ninjas – The Ninjas will be making their debut show at LEGOLAND Malaysia Resort and showing off their breakdance moves!
LEGO Build Activity – Friends & family can usher in the Year of the Rat in the typical LEGOLAND style by working together to build the best Lunar New Year themed LEGO creation!
Year of The Rat Promotions
For families looking to fully experience the magic of LEGOLAND, the resort is offering a 30% discount on all day tickets purchased from 6th Jan to mid-Feb 2020 and an opportunity to upgrade to an annual pass for a 365-day LEGOLAND experience! Families can also save up to RM420 for their upcoming stay at LEGOLAND Hotel from 1st Jan to 29th Feb if they book before 31st Jan 2020 through the official website.
For more information on the exciting line-up of activities and tickets head over to the official website, www.legoland.com.my or via the social media pages on Facebook and Instagram.