LEGOLAND Malaysia Resort: The preferred family vacation spot in South East Asia
Tuesday 12th February 2019
Press Office
Sales & Promotions, Tourism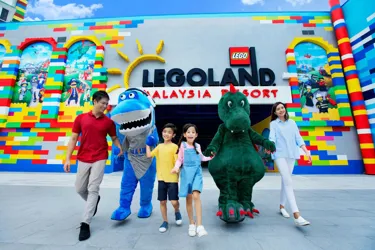 LEGOLAND Malaysia Resort: The preferred family vacation spot in South East Asia
Jakarta, 12 February 2019 – Nestled in the southern border of Malaysia, Johor is quickly becoming the preferred choice for vacation in the region due to its vast variety of traveling options including Theme Park, destination retreats, shopping and culture activities. It is the ideal destination to visit during long weekend and school break.
Situated in Johor Bahru, the new bustling theme park zone, the first LEGOLAND® theme park in Asia – LEGOLAND® Malaysia Resort offers a complete LEGO® experience for guest to unleash their creativity and imagination. The resort houses a theme park, a water park and a fully themed LEGO® hotel which is perfect for families to have  a bonding time in a fun and education environment.
"Creating refreshing experiences for families to enjoy uninterrupted fun and quality bonding time is LEGOLAND® Malaysia Resort's mission. We have introduced new activities and attractions that have transformed LEGOLAND® Malaysia Resort into a premier family paradise and an award-winning attraction over the past seven years" said Mr. Kurt Stocks, General Manager of LEGOLAND® Malaysia Resort.
In conjunction with the sequel launch of the successful movie franchise The LEGO® Movie™ 2: The Second Part, LEGOLAND® Malaysia Resort will be having LEGO® Movie™ Event Days where visitors could relive moments from their favourite LEGO® Movie™ franchise from now till 31st March.
The park will be filled with fun-filled activities where visitors can truly connect with their favourite characters from the movie, including:
"The LEGO Movie" Scavenger Hunt
Wyldstyle, MetalBeard, Unikitty and Benny have lost their way and Emmet needs help to find his friends in the Miniland.
"The LEGO Movie" Mystery Mosaic
Guests work together to help build a mystery LEGO mosaic throughout the weekend.
Character Meet and Greet Session
Meet Emmet, Wyldstyle and a new character to be discovered from the film during character meet and greet sessions.
LEGO® Movie Building Activity
Create spaceship and escape from the Alien Invaders that are attacking Bricksburg. The master builder will win exclusive collectables from the movie.
While in the land of LEGO®, remember to check out below must-visit attractions:
New Attractions
LEGO City 4D: Officers in Pursuit – The new add on to the LEGO Studios experience
The brand new experience launched last month is based on the successful franchise The LEGO® City product lines. Fans will be able to watch LEGO® City Policeman chasing down mischievous crooks through the streets and skyscrapers of the metropolis. Packed with 4D effects with bursts of bubbles, strong winds and sprays of water, this attraction will provide a truly immerse experience of the LEGO® universe.
 Opened in 2017
World's first LEGO® VR Coaster – The Great LEGO® Race
Ready, Set, LEGO®! Prepare to embark on the wildest LEGO® ride as LEGOLAND® Malaysia Resort is the world's first LEGOLAND® park to launch the LEGO® virtual reality roller coaster in November 2017. The Great LEGO® Race sees colourful LEGO® Minifigures Trendsetter, Pharaoh, Surfer Girl, Wizard and Pirate Captain come to life and race against one another on the tracks. Wearing the VR headset, guests will experience the action from every direction – up, down, forward, backward and all points in between – in a spectacular environment completely made of LEGO bricks.
Opened in 2016
The Most Complete LEGO® NINJAGO™ Experience
LEGOLAND® Malaysia Resort is the only place boasting a full NINJAGO™ experience - one can dine as a ninja at LEGOLAND® Hotel Kai's Sushi Bar; watch a ninja live puppet show – NINJAGO™ & The Realm of Shadows; live and sleep like a ninja in the NINJAGO™ themed rooms; and the most exciting part, fight as a ninja in the ground-breaking 4D NINJAGO™ Ride!
Launched in 2016, LEGO® NINJAGO™ The Ride is a fully immersive 4D high tech and dark-ride inspired by the highly popular LEGO® line of NINJAGO™ toys and TV series. Guests will take on their favourite characters and defeat enemies from snake tribes, ghosts and skeletons to the Great Devourer under the guidance of Master Wu, simply by using their hands'. With the 4D effects, guests can feel the heat, smoke and wind as they fight the battle quest with their friends.
Opening April 2019
SEA LIFE Malaysia – The World's Largest Aquarium Brand Arrives in Malaysia
Families planning a trip to LEGOLAND® Malaysia Resort later this year will also be able to visit a brand-new attraction at the resort, SEA LIFE Malaysia. SEA LIFE is the world's biggest aquarium brand with more than 50 attractions worldwide.  Designed with children in mind, SEA LIFE Malaysia will have more than 25 display tanks in 11 habitat zones, showcasing thousands of sea creatures. Guests can learn about the plethora of sea creatures such as the seahorses, rays, sharks and jellies as they undergo an educational underwater adventure that will inspire the love and care for the ocean.
Other than world of LEGO®, visitors also recommend to have city excursion tour to understand the local culture and cuisine, downtown Johor Bahru is a good place to start where a bustling night life, hippy cafes and delicious local cuisine waiting to be discovered. Some other must visit includes bargain shopping in the one of largest branded outlet in Malaysia – Johor Premium Outlet and Puteri Harbour, the happening marina walk in Iskandar Puteri.
LEGOLAND® Malaysia Resort & Johor Bahru is easily accessible via 3 main aviation links which are Johor Bahru (Senai Airport), Kuala Lumpur (KLIA) and Singapore (Changi Airport). The 3 airports offer high connectivity to all major Indonesia cities. From there, is an easy direct road link connecting the airport to LEGOLAND® Malaysia Resort.
Exclusion Promotions for Indonesian Families
Look no further; there is no better place to spend the perfect year end vacation with your children than in Johor. We got everything covered at this family paradise. With SEA LIFE Malaysia scheduled to open in April, there's even more reason to visit our resort, wait no further, book early and save more! Check details at http://LEGOLAND.my  
LEGOLAND® Admission ticket: Get the best value by purchasing the 2-Days COMBO ticket where you and your family will be able to enjoy consecutive days of LEGO® fun.
LEGOLAND® Hotel Malaysia: Book LEGOLAND Hotel stay package from only *RM550 (IDR1.8mil) per night
*Terms and conditions applies
Stay connected with the resort via social handles (Facebook and Instagram).