LEGOLAND® Malaysia Resort Offers a Wholesome Family Experience in 2019
Wednesday 20th February 2019
Sales & Promotions, SEA LIFE Malaysia, NINJAGO, LEGOLAND Hotel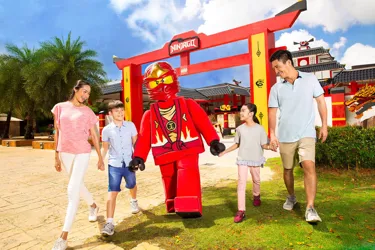 LEGOLAND® Malaysia Resort Offers a Wholesome Family Experience in 2019
KUALA LUMPUR, 20 February 2019 – In line with LEGOLAND® Malaysia Resort's commitment to providing guests a full family experience, the resort has announced its awesome 2019 line up. Guests can expect to see new attractions and facilities within the resort grounds including the launch of SEA LIFE Malaysia in April 2019 and an upgraded LEGOLAND® Hotel. LEGOLAND® Malaysia Resort already offers guests various exclusive experiences including being the only LEGOLAND® park in the world to offer a complete NINJAGO experience and the only theme park in Malaysia to have a Virtual Reality Roller Coaster; The Great LEGO® Race VR Coaster.
SEA LIFE Malaysia, will be the only SEA LIFE in the region that will combine the interactive aquarium concept with unique LEGO® elements. The aquarium is slated to open in April 2019 and will be the first exciting attraction that families can look forward to. SEA LIFE, the largest aquarium brand in the world will give young visitors a chance to have their first encounter with 13,000 marine life from 120 species in a safe, fun and educational environment. LEGOLAND® Malaysia Resort hopes that families that visit the aquarium will return home engaged and inspired to learn, love and care for the ocean.
To ensure that all guests have the opportunity to fully enjoy new offerings in LEGOLAND® Malaysia this year, the resort has enabled MyKad holders to be able to get an annual pass for the price of a one day ticket. With their new annual pass, Malaysians can enjoy unlimited access to LEGOLAND®'s Theme Park and Water Park, as well as free access to SEA LIFE Malaysia once it has opened to the public. With these valuable offers, LEGOLAND® will be a great place for families to experience a complete theme park, water park and aquarium experience.
"We kick-started 2019 strong and we can't wait for our guests to experience SEA LIFE Malaysia for the first time in April.  The opening of SEA LIFE Malaysia, new hotel experiences and being the only LEGOLAND® where fans can have the full NINJAGO experience will make LEGOLAND® Malaysia Resort the top family destination for families locally and in the region," said Kurt Stocks, General Manager at LEGOLAND® Malaysia Resort.
"With all these exciting new attractions and activities, we will continue to build on our LEGO® DNA and weave in key creative play elements that will keep the whole family engaged and learning during their visit. We strive to provide a truly unique experience that is only available at LEGOLAND®," he added.
Throughout the year, guests can also continue to look forward to new additions to the resort with every visit. In 2019 alone, LEGOLAND® Malaysia Resort has already launched a brand new 4D movie, LEGO® City 4D Movie – Officer in Pursuit! and LEGO® Movie Event Days where visitors can connect with their favourite characters from the LEGO® Movie™ franchise. The LEGOLAND® Hotel will also be getting new experience such as new NINJAGO hotel rooms and a new LEGO® themed pool bar.
With the new annual pass, pass holders will have unlimited access all year-round to LEGOLAND® Theme Park and Water Park, including free access to SEA LIFE Malaysia which is scheduled to open in April 2019. The all-new annual pass is available for purchase at LEGOLAND®'s official website (https://www.legoland.com.my/) for a limited time only.
For the latest update on promotion and activities, stay connected with us via Facebook and Instagram.