LEGOLAND® Malaysia Resort Brings Edutainment to Over 500 Schools
Monday 22nd April 2019
Press Office
Schools & Education, SEA LIFE Malaysia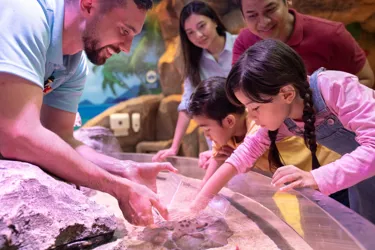 LEGOLAND® Malaysia Resort Brings Edutainment to Over 500 Schools
ISKANDAR PUTERI, 22 April 2019 – LEGOLAND® Malaysia Resort continues to promote learning through play with the launch of EDUPLAY Express 2019 that aims to bring outdoor learning to schools in Malaysia. The initiative which was introduced in 2014, will see the EDUPLAY Express bus visit over 500 schools in Peninsular Malaysia, starting from Johor, allowing students to participate in fun, educational and interactive activities that is closely designed to LEGO's DNA.
LEGOLAND® Malaysia Resort is the first LEGOLAND® in the world to organize the EDUPLAY Express programme to schools. The resort has revamped its educational LEGO® themed bus and will be introducing a refresh education programme including new educational workshops, available exclusively at SEA LIFE Malaysia that is scheduled to open in May 2019.
"EDUPLAY Express is an extension of an integral part of our LEGO® DNA and aligned with activities available at our resort. STEM is an important area in our education programme and we believe the cultivation of interest and learning through play should start at a younger age. Learning does not only take place within the four walls of a classroom and through this programme, we hope to bring children outside to cultivate their creative thinking through fun educational activities with our EDUPLAY Express Bus", said Kurt Stocks, General Manager of LEGOLAND® Malaysia Resort.
Kurt added, "We have continued to run this programme since 2014 as we have received positive feedback from students and teachers. With the newly refreshed education activities and revamped buses, we are aiming to reach out to 500 schools in Peninsular Malaysia by November 2019."
The refreshed education programme within the EDUPLAY Express bus will integrate STEM (Science, Technology, Engineering and Mathematics) elements, adding-on to the existing LEGOLAND® Education Programme that are available at the theme park such as:
Heartbeat: Students can join Dr. Heartbeat and the NXT-bots to complete a variety of life savings operations and medical procedures using a computer, light, sound sensors and motors.
Energy Lab: Students can build solar-powered car or ride using Simple and Motorized Mechanisms and Renewable Energy LEGO® Education Sets. During this workshops, students will learn how light and heat from the sun can be transformed to solar energy and harnessed energy to power cars.
Tall Towers: Students will be able to design their own buildings with LEGO® bricks and find out how certain features make buildings structurally sound. Students can also test out their LEGO® tower's stability on the earthquake simulator.
The EDUPLAY initiative also extends to SEA LIFE Malaysia, LEGOLAND® Malaysia Resort's new marine life attraction that is set to launch in May 2019 where it strives to teach students about marine life and the importance of conserving the delicate underwater ecosystem.
For schools that will not be on the EDUPLAY Express bus route this year, educators can head over to https://www.legoland.com.my/book-visit/education/education-package/ to find packages for school field trips to experience all the LEGOLAND® Education Programme workshops available in the parks. For the latest update on promotion and activities, stay connected with us via Facebook and Instagram.