LEGOLAND® MALAYSIA RESORT WELCOMES A BRAND NEW ATTRACTION, SEA LIFE MALAYSIA, TO OPEN QUARTER 4 OF 2018
Thursday 18th January 2018
Press Office
SEA LIFE Malaysia, New Attractions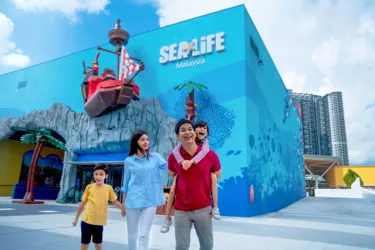 LEGOLAND® MALAYSIA RESORT WELCOMES A BRAND NEW ATTRACTION, SEA LIFE MALAYSIA, TO OPEN QUARTER 4 OF 2018
ISKANDAR PUTERI, 18th JANUARY 2018 — Today, LEGOLAND® Malaysia Resort officially announced the development of a brand new attraction at the resort, SEA LIFE Malaysia, which is scheduled to open in Q4 2018. Occupying 2123m2 of land space, the two-storey aquarium will be located next to existing ventures of Merlin Entertainments, LEGOLAND® Malaysia Theme Park, LEGOLAND® Malaysia Water Park, and LEGOLAND® Malaysia Hotel.
SEA LIFE is the world's biggest aquarium brand with more than 50 attractions worldwide.  The SEA LIFE experience focuses on a voyage to the depths of the oceans, and exhibits are designed with children in mind. SEA LIFE Malaysia will have more than 25 display tanks in 11 habitat zones, featuring thousands of sea creatures.
"We are very excited to welcome SEA LIFE to LEGOLAND® Malaysia Resort, the top family destination in Asia. Children will get to interact with the sea creatures up-close, and learn about their natural habitats. It is the first family resort in Malaysia to offer interactive and educational marine life experience." said Kurt Stocks, General Manager at LEGOLAND® Malaysia Resort.
Through compelling storytelling and up-close interaction, SEA LIFE Malaysia aims to engage and inspire kids to learn, love and care for the ocean. Visitors can learn about some of the sea's most famous and popular creatures such as seahorses, rays, sharks and jellies, in addition to animal healthcare and food preparation for sea creatures through behind-the-scene tours.
SEA LIFE Malaysia is also inspired by the local ecological environment. The Malaysian rainforest has been one of the world's great centres of biodiversity. Realising the vital role of these invaluable natural resources, SEA LIFE Malaysia will exclusively feature the Malaysian rainforest as one of the special zones, showcasing many of the creatures from the local rainforest habitat.
With a touch of LEGO's DNA – building imagination through play, SEA LIFE Malaysia offers visitors a unique learning experience filled with fun and excitement. Guests will be delighted to discover LEGO® Mini-Figures and other LEGO® sea creatures while they embark on their fun and educational journey inside SEA LIFE Malaysia.
"SEA LIFE is a testimony of our continued efforts and commitment to grow and maintain our standing as the leader within the industry. We will continue to invest in the development of the Resort, to ensure that every visit is a new and refreshing experience for our guests," said Kurt Stocks, General Manager at LEGOLAND® Malaysia Resort.
Celebrate the New Year with All Year Round of Fun at LEGOLAND Malaysia Resort
The announcement of SEA LIFE Malaysia is hot on the heels of the recent launch of the world's first LEGO® Virtual Reality Roller Coaster – The Great LEGO Race – in the LEGOLAND® Malaysia Resort's theme park. At The Great LEGO Race, guests are greeted with a new colorful entrance portal, beckoning them to take on the challenge. Beyond the TV screens showcasing the fun awaiting them, kids will be treated a lively display featuring their competitor's pit crew who are eager to race them to the finish line. After boarding the four-person roller coaster vehicles, guests put on the VR headsets for an exciting race through the LEGO world. 
During the ride, Bluetooth technology will sync the virtual visuals with the roller coaster's twists, turns, drops and climbs, creating an all-new experience filled with thrills, spills, surprises and humour – done in LEGOLAND's brilliance.
Ushering in the Lunar New Year, LEGOLAND® Malaysia Resort is welcoming the traditional festival with a month-long celebration filled with exciting and fun activities happening every day. From 1st - 28th February 2018, LEGOLAND® Malaysia Resort is ready to bring out the festive cheer to all their guests this season.
For further information on promotions and activities, visit LEGOLAND® Malaysia Resort's official website www.legoland.com.my and stay connected with the resort via social handles (Facebook & Twitter) to find out more.