Themed Attraction Resorts & Hotels Partners with SEA LIFE Malaysia @ Legoland and local communities for Desaru Coast Beach Cleanup
Saturday 6th October 2018
Press Office
SEA LIFE Malaysia, New Attractions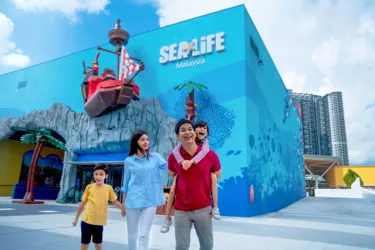 Themed Attraction Resorts & Hotels Partners with SEA LIFE Malaysia @ Legoland and local communities for Desaru Coast Beach Cleanup
Desaru Coast, 6 October 2018 – Themed Attraction Resorts & Hotels Sdn Bhd ("TAR&H") collaborated with SEA LIFE at LEGOLAND® Malaysia Resort in hosting the Desaru Coast Beach Cleanup day today. The event, organised by TAR&H in conjunction with the recent International Coastal Cleanup day, collected more than 1.8 tonnes of trash along 1.5km stretch of the southern-most beach at Desaru Coast within an hour. 
Highlights of trash collected during the program included plastic bottles, styrofoams, ropes, plastic bags, straws, plastic cups and plates, bottle caps, glass bottles, cigarette butts and footwears. The trash was categorized into recyclable, non-recyclable and pollution like tar balls.
The third edition of Desaru Coast Beach Cleanup event was attended by YB Dato' Sharifah Azizah Binti Syed Zain, the state assembly representative for Penawar, who joined the 300 volunteers comprising the local communities and authorities of Pengerang and Lembaga Kemajuan Johor Tenggara (KEJORA), staff and representatives from TAR&H and its group of companies, as well as  LEGOLAND® Malaysia Resort in an effort to raise awareness on the conservation of coastal environment.
Amir Hamzah Azizan, Group Chief Executive Officer of Themed Attraction Resorts & Hotels Sdn Bhd said, "TAR&H oversees two premier beachfront destinations in the country, here in Desaru Coast and The Datai Langkawi. The public beach cleanup initiatives at our destinations are held not only to keep our beaches clean, but to educate and drive awareness on the impact of trash and marine debris on the environment."
In 2017, the International Coastal Cleanup movement by Ocean Conservancy saw nearly 800,000 volunteers from more than 100 countries collect more that 9 million tonnes of trash in one day. Closer to home, the previous Desaru Coast Beach Cleanup in 2016 was attended by more than 250 volunteers and recorded 1.7 tonnes of trash along the same stretch of the beach.
Amir explained, "In addition to having staff from our destinations regularly cleaning the public beach, the public collaboration for the beach cleanup helps reaffirms the rising global concern on ocean pollution and its impact to nation's sustainable development and environment." Recent studies  by Jambeck et al (2015), a researcher from University of Georgie estimated that plastic waste found in the ocean is between 4.8 to 12.7 million tonnes could affect the marine animals and eventually humans in terms of economic, food safety, transportation and recreation purposes.
SEA LIFE at LEGOLAND® is working together with TAR&H for the first time in the Desaru Coast Beach Cleanup project. 
The team at LEGOLAND® Malaysia include representatives from SEA LIFE Junior Rangers programme, an initiative that aims to bring together children from Malaysia and Singapore who will become the voice of the marine sanctuary. The Junior Rangers programme will provide children the opportunity to learn more about marine life conservation from SEA LIFE Malaysia's marine experts.  Through Desaru Coast Beach Cleanup activity, the Junior Rangers are able to experience the importance of coastal conservation.
"LEGOLAND® and SEA LIFE Malaysia are partnering with TAR&H as we want to contribute and do our part in conservation for the marine ecosystem.  18 Junior Rangers aged between 5 to 12 years together with 15 parents participated which validates the youth's passion towards conservation for the ocean and its marine life", shares Kurt Stocks, General Manager at LEGOLAND® Malaysia Resort. 
"The joint collaboration is intended to educate and inspire our younger generation to play an active role in protecting the ocean. We believe that education remains a key driver to motivate both local and global communities towards a common good towards ocean conservation," added Amir.
Held in conjunction with the Ocean Conservancy's International Coastal Cleanup, Desaru Coast Beach Cleanup participants join hundreds of thousands of other volunteers each year in the world's largest volunteer effort for the ocean. In addition to removing trash, volunteers record information about what they collect. The data collected at the beach clean-up is fed into Ocean Conservancy's yearly International Coastal Cleanup report.
The last Desaru Coast Beach Cleanup in 2016 was held at the same location where more than 250 volunteers collected 1.7 tonnes of trash, from the same 1.5km stretch of the beach.Desaru Coast Beach Cleanup is a volunteer programme initiated by TAR&H as part of the Company's corporate responsibility initiatives, under the environment pillars which includes coastal conservation.
The Desaru Coast Beach Cleanup is held at Desaru Coast, a new curated tourism development in Malaysia with a unique blend of globally renowned hotels and resorts, a conference centre, a 27-hole and 18-hole golf course, a themed water park and a retail village. Located in the south-eastern region of the country, in the state of Johor, Desaru Coast spans over 3,900 acres along a pristine 17 km beachfront that faces eastwards over the clear ocean waters. The destination is set amid a rich bio-diverse location and is easily accessible via road, air and sea.