Celebrate 0% GST with further savings on your next brick-tastic holiday exclusively at MATTA Selangor
Thursday 28th June 2018
Press Office
Sales & Promotions, Annual Pass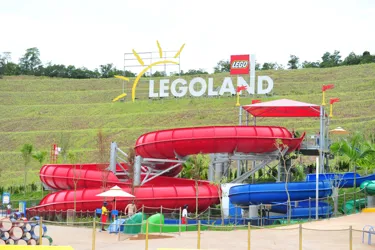 Celebrate 0% GST with further savings on your next brick-tastic holiday exclusively at MATTA Selangor
SELANGOR, 28 JUNE 2018 – In parallel with the reduction of the Goods and Services Tax (GST) from 6% to 0%, LEGOLAND® Malaysia Resort will be offering their annual pass at an unbeatable price of RM188 –  a 50% discount from the usual rate. This exclusive offer runs from 27 July to 29 July 2018, and will get even sweeter for Maybank credit card holders, who can purchase the Annual Pass in 6-month to 12-month interest-free instalments. Annual pass holders will receive exclusive invitations to special events, enjoy special discounts, complimentary parking and of course, a year of unlimited access to the happiest place in Malaysia, LEGOLAND®!
The above offer will be available at the Malaysian Association of Tour & Travel Agents (MATTA) Fair Selangor Carnival 2018, held from 27 July to 29 July at Malaysian Agro Exposition Park Serdang (MAEPS). Visitors heading to LEGOLAND® Malaysia Resort's travel booth 80-81 will also receive exclusive discounts such as:
Super savings of up to 50% on an Awesome Pass: Purchase an Annual Pass for the price of a 1 Day Theme Park Ticket
Up to 45% discount on a day ticket: Purchase a day ticket from as low as RM105 during "Happy hour"
Super family package at LEGOLAND® Hotel: Enjoy a one-night stay at LEGOLAND® Hotel's premium themed room, buffet breakfast and two-day combo tickets for five guests at 45% off
"We are thrilled to bring these special deals to the visitors of MATTA Fair Selangor. With this GST reduction, visitors are now able to purchase great value packages at affordable prices. From now till the end of the year, there will be a number of exciting festivities happening at the resort, such as the Halloween Brick-or-Treats in October and the magical Brick-tacular Holiday celebration in December. Furthermore, guests can also experience LEGOLAND® Malaysia Resort's latest attractions, such as The Great LEGO® Race, a LEGO® Virtual Reality roller coaster, and the LEGO® NINJAGO™ The Ride, a fully immersive 4D high-tech and interactive ride," said Ms. Thila Munusamy, Director of Sales and Marketing, LEGOLAND® Malaysia Resort.
Named one of the best holiday destinations for families with kids in Asia, LEGOLAND® Malaysia Resort is committed to ensuring a refreshing experience for guests and families all year around. Later this year, LEGOLAND® Malaysia Resort will also welcome the largest aquarium brand, SEA LIFE, to the shores of Malaysia. So, stay tuned!
Upcoming Events at LEGOLAND® Malaysia Resort:
Halloween Brick-or-Treats (October 2018): The biggest, spookiest, yet incredibly kid-friendly Halloween celebration in the region is back! Enjoy live entertainment shows and interact with your favourite LEGO® Halloween characters - LEGO® Frankenstein, Wanda the Witch, and Vladimir the Vampyre. Many special LEGO® treats will be up for grabs as well!
Brick-tacular Holidays (December 2018): Celebrate the holiday season with The LEGO® Santa under the tallest LEGO® Christmas tree in South East Asia at LEGOLAND® Malaysia Resort! New & renewed annual pass holders in 2018 will also stand a chance to win a Nissan Almera in the resort's festive lucky draw.