LEGOLAND® Malaysia Resort's Virtual Reality Roller Coaster "The Great LEGO® Race" Officially Launches
Wednesday 22nd November 2017
Press Office
Theme Park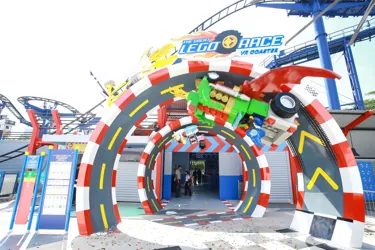 "The Great LEGO® Race" Officially Launches
ISKANDAR PUTERI, 22nd NOVEMBER 2017 – LEGOLAND® Malaysia Resort today announced the opening of the world's first LEGO® Virtual Reality Roller Coaster – The Great LEGO® Race. Through fusing virtual reality technology and roller coaster thrills, the Great LEGO Race elevates the roller coaster experience with a new adventure never-before-seen in a LEGOLAND theme park.
Featuring a colorful lineup of racers drawn from the ranks of the popular LEGO Minifigure mystery assortments, The Great LEGO Race builds a universe of imagination that will unleash the inner child of everyone. It pits riders in a rollicking race against wild, brick-built contraptions driven by Trendsetter, Pharaoh, Surfer Girl, Wizard and Pirate Captain, including a rocket-powered surfboard and a stylish scooter fueled by espresso.  The roller coaster can be ride with or without the VR headset, and is suitable for children ages six and up.
"Inspired by the way kids play with LEGO toys at home, The Great LEGO® Race virtual reality roller coaster ride is designed to let riders enter an imaginary world made entirely from LEGO bricks, featuring a host of different themes and fun LEGO characters. As a premier family holiday destination where families can enjoy quality bonding time together, this truly extends the LEGO bricks play experience from home to park through an immersive environment, which is what we strongly believe in," said Kurt Stocks, general manager of LEGOLAND Malaysia Resort.
Developed in partnership with Samsung, Mr. KM Liew, Head of IT & Mobile Business, Samsung Malaysia Electronics said, "Focus on setting and exceeding the standard for VR experience making them more accessible and delivering high quality, we are honoured to be a launching partner of LEGOLAND®, where the beauty of this partnership allows us to push the boundaries of what is possible, bring the roller coaster to life for children and adults alike, and capture their imagination. Guests can now be immersed into a completely new universe while riding a roller coaster, powered by Samsung Gear VR device".
At The Great LEGO Race, guests are greeted with a new colorful entrance portal, beckoning them to take on the challenge. Beyond the TV screens showcasing the fun awaiting them, kids will be treated a lively display featuring their competitor's pit crew who are eager to race them to the finish line. After boarding the four-person roller coaster vehicles, guests don VR headsets for an exciting race through the LEGO world.  
During the ride, Bluetooth technology will sync the virtual visuals with the roller coaster's twists, turns, drops and climbs, creating an all-new experience filled with thrills, spills, surprises and humour – done in LEGOLAND's brilliance.
"The adoption of innovative technology within LEGOLAND® Malaysia Resort exemplifies our commitment in making every visit to the park a fresh and exciting for their guests. Last year, we launched our LEGO NINJAGO™ The Ride, a fully immersive 4D ride where enables guests to do as the ninjas do and launch fireballs, lightning, shockwaves or ice with hand movements. We are extremely happy to end the year on a high note, not only with this launch but also with a new addition to the park that we can't wait to share with everyone," said Kurt Stocks, general manager of LEGOLAND Malaysia Resort.
The Great LEGO® Race ride at LEGOLAND® Malaysia Resort is available for the public to ride. It will also be launched in LEGOLAND® Florida Resort and LEGOLAND® Deutschland Resort in 2018.
For further information on promotions and activities, visit LEGOLAND Malaysia Resort's official website www.legoland.com.my and stay connected with the resort via social handles (Facebook & Twitter) to find out more.