LEGOLAND® MALAYSIA RESORT BRINGS YOU CLOSER TO THE DARK KNIGHT THROUGH THE LEGO® BATMAN™ MOVIE DAYS!
Friday 17th February 2017
Press Office
Events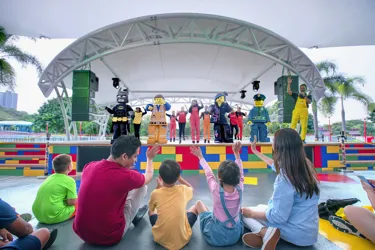 LEGOLAND® MALAYSIA RESORT BRINGS YOU CLOSER TO THE DARK KNIGHT THROUGH THE LEGO® BATMAN™ MOVIE DAYS!
Villains flee at the mention of his name. The bat signal, an assurance of safety to many who believe in him. With darkness as his ally, he fights crime relentlessly. Na, na, na, na, na, na, BATMAN™!
The caped crusader returns after his big 'LEGO®-fied' debut in The LEGO® Movie; still working in "black and sometimes very, very, dark gray." In celebration of LEGO®'s big-screen adventure of Gotham's superhero, The LEGO® BATMAN™ Movie, LEGOLAND® Malaysia Resort brings the entire experience alive through awesome in-park events and activities, sure to awaken the hero in every adult and child.
From 17 February to 31 March 2017, the Resort will be hosting a myriad of activities and events developed in partnership with The LEGO® Group and Warner Bros. Consumer Products. The LEGO® BATMAN™ Movie Days at LEGOLAND® Malaysia Resort promises an amazing time for kids and families in epic proportions.
Fans of both LEGO® and BATMAN™ will be treated to a host of park activities, including an awesome Scavenger Hunt, a special mosaic building activity and of course, special appearances of the one and only LEGO® BATMAN™. In the words of the Dark Knight himself "everything is awesome!", because he's BATMAN™. Here are the special events you can look forward to:
LEGO® BATMAN™ Meet & Greet
The cutest Dark Knight lives in LEGOLAND® and will make special appearances all around the park. Seize this opportunity to take as many pictures with him, and who's to say, he might teach you a thing or two. Be on the lookout.
Exclusive LEGO® BATMAN™ Gift with Purchase
All visitors will get LEGO® BATMAN™ masks to explore the park as Gotham's favourite vigilante. Fans will also be eligible for the exclusive LEGO® BATMAN™ Mini Batwing (while stocks last) or every purchase of LEGO® BATMAN™ products worth RM250 and above. 
Kids Go FREE
Yes, you read that right! Start sewing or knocking on your nearest costume store for the best BATMAN™, Joker, Robin, or Batgirl outfit. For the entire event period, kids under 12 years old dressed in the main characters of The LEGO® BATMAN™ Movie get FREE admission with one (1) full paying adult ticket purchase.
The Scavenger Hunt
BATMAN™ was a master seeker and hunter. What about you? Put your skills to the test. Register yourself at the admission counter and collect your hunt guide. See if you can find the missing items and collect one victory stamp for every successful find.
Spot The Joker Minifigure
He's the master of all criminals. Explore the park to spot the LEGOLAND® staff with the Joker Minifigure and show case your awesome work by uploading a selfie on your social handles. If you're almost as amazing as BATMAN™, you might put his sidekick, Robin, out of work.  
The sky's the limit where fun and play is concerned. Why stop there? Here are more activities that will be carried out daily for everyone to enjoy:
Mosaic Build
Bat's might be blind, but not BATMAN™ – because he's AWESOME. Create your very own LEGO® BATMAN™ character based on the outlines provided daily, from 11am to 6pm at the LEGO® Academy.
Create Your BATMAN™ World
Immerse yourself in the realm of the caped crusader by building your very own BATMAN™ World with the LEGO® bricks provided. The escape to BATMAN™ World happens daily from 11am to 6pm at the LEGO® Academy.
BATMAN™ Build Activity
Sharpen your skill to become a master builder. Build a BATMAN™ LEGO® set based on the instruction given; daily from 10am to 6pm at the LEGO® Academy.
Photo Opportunities
Ample photo opportunities await those who visit with special BATMAN™ themed spinner standees amongst others.
Caption this Scene (on Facebook)
Capture a picture of the LEGO® BATMAN™ Movie mascots whenever you see him in park, upload it to LEGOLAND's Facebook page and make sure you include your most creative caption ever! The best caption will be in the running for LEGOLAND Malaysia Theme Park tickets!
A Selfie with LEGO® BATMAN™ (on Facebook)
Make sure you take a selfie with LEGO® BATMAN™ Movie walking character and wait for the announcement on LEGOLAND's Facebook page. The most creative caption of the selfie wins LEGO® BATMAN™ Movie merchandise.
For further information on promotions and activities, visit LEGOLAND® Malaysia Resort's official website www.legoland.com.my and stay connected with the resort via social handles (Facebook & Twitter) to find out more on the Lunar New Year activities, the resort's latest attractions and promotions.