EAT, SLEEP, AND TRAIN LIKE A NINJA IN THE NEWLY LAUNCHED NINJAGO™ THEMED ROOMS AT LEGOLAND® MALAYSIA RESORT
Friday 16th June 2017
Press Office
LEGOLAND Hotel, NINJAGO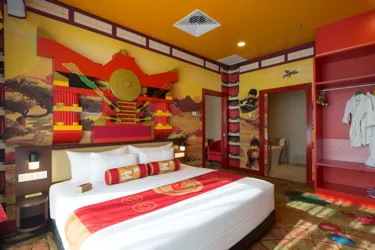 EAT, SLEEP, AND TRAIN LIKE A NINJA IN THE NEWLY LAUNCHED NINJAGO™ THEMED ROOMS AT LEGOLAND® MALAYSIA RESORT
ISKANDAR PUTERI, 16 June 2017 – It's 'ninja month' at LEGOLAND® Malaysia Resort and the resort just became a little more mysterious! LEGOLAND® Malaysia Resort today announced the opening of NINJAGO™ themed rooms at its award-winning LEGOLAND® Hotel, the first of its kind in Asia.
Budding ninja hopefuls and NINJAGO® fans are promised a warrior's welcome as LEGOLAND® Malaysia now boasts a full NINJAGO™ experience. One can dine as a ninja at LEGOLAND® Hotel Kai's Sushi Bar; watch a ninja live puppet show – NINJAGO™ & The Realm of Shadows; fight as a ninja in the groundbreaking 4D NINJAGO™ Ride; and finally, one can live and sleep like a ninja in the new NINJAGO™ themed rooms.
Ninja lovers can now spend the night with beloved LEGO® NINJAGO™ heroes such as Kai, Jay, Cole, Zane, Lloyd, Nya and Master Wu. The highlight of these rooms are its NINJAGO™ décor made of LEGO® bricks – a customary feature at any LEGOLAND® property – from Zane's titanium falcon, huge dragon eggs to ninja throwing stars. NINJAGO™ themed sleeping quarters complete the ninja-lodging experience, with bunk and trundle beds themed as a dragon's cave where little ninjas  prepare for a good night's sleep. The kids are having their own TV, games, LEGO® bricks and a treasure chest that can only be solved by true ninjas. While the parents will also sleep like a ninja on the king-sized bed comes complete with a shrine holding the four elemental NINJAGO™ weapons.
These ninja-themed rooms will add to the three other themed rooms guests can choose from at LEGOLAND® Hotel – namely, Pirate, Adventure and Kingdom. 
Hari Raya Offer
LEGOLAND® Malaysia Resort is marking this festive season with a special promotion - Buy 2 Get 1 Free Annual Pass deal. Right in time for the Raya season, it is specially designed for families or groups, ensuring no one get left behind this holiday! This special deal will run from now until 3 July 2017. This promotion can be purchased from LEGOLAND® Malaysia's ticketing counters, and its website.
NINJAGO™ Room Booking Details:
Ninjas can make a reservation Online
Or call LEGOLAND® Hotel's reservation line at +607 5978888
For further information on promotions and activities, visit LEGOLAND® Malaysia Resort's official website www.legoland.com.my or contact us at 07-597 8888 and stay connected with LEGOLAND® Malaysia Resort's social handles (Facebook&Twitter) to find out more on online promotions.