LEGOLAND® Malaysia Resort Celebrates Five Years of Awesome Family Time
Monday 28th August 2017
Press Office
Events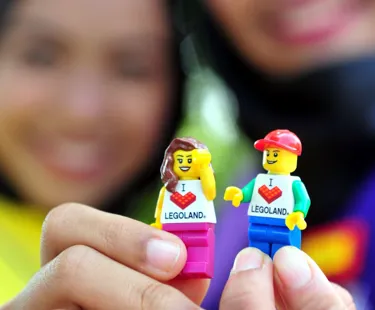 LEGOLAND® Malaysia Resort Celebrates Five Years of Awesome Family Time
ISKANDAR PUTERI, JOHOR, 28th AUGUST 2017 – This year marks the 5th Brick-versary of LEGOLAND® Malaysia Resort. Over the past five years, the premier family holiday destination has successfully built itself as a paradise where families can discover shared hobbies and enjoy awesome bonding time together.
In celebration of the anniversary, LEGOLAND® Malaysia Resort has put together an 'upsized' calendar of activities and special prizes for its visitors every day, including winning LEGO® sets, annual passes, VIP expeditions, LEGO® Minifigures and even a chance to go on a family holiday to LEGOLAND® Japan Resort.
"We have seen our resort evolve into a special place where families can enjoy undisrupted and quality bonding time together. This is one place where fans can also go wild with their imaginations," said Mr. Kurt Stocks, General Manager of LEGOLAND® Malaysia Resort.
The park has grown tremendously since its opening in September 2012 as the first LEGOLAND® Theme Park in Asia. LEGOLAND® Water Park and Hotel joined to complement the in-park LEGO® experience soon after, where guests can go beyond building their imaginations within the park, and live in the fantasy.
Staying true to its people-centric spirit, LEGOLAND® Malaysia Resort has also earned several accolades such as the Best Tourist Attraction at Malaysia Tourism Awards 2014/2015, No.1 family hotel in TripAdvisor® Traveller's Choice Award 2016, and a place on the shortlist of the top 10 Amusement Parks (2017) in Asia by TripAdvisor®.
To create richer and more immersive theme park experience for guests, the resort continues to include new additions such as the first indoor LEGO® Star Wars™ Miniland; its largest ride investment – 4D interactive attraction NINJAGO™ The Ride; and an all-encompassing experience living as Ninjas with the NINJAGO™ Themed Room.
Mr. Stocks shared, "Indeed, because our guests never stop exploring, we shall never stop building to ensure that every visit will be a new and refreshing experience. Hence, in the year ahead, we will continue to see new and exciting additions to the park, with announcements coming up soon".
To commemorate this significant milestone, guests can look forward to fun-filled activities in the park from 21st August 2017 – 30th September 2017. Whether it's being a part of this epic milestone by building a giant birthday cake, collecting all 1,000 types of Minifigures at the park's trading hub or even winning an all-expense paid trip to LEGOLAND® Japan Resort, there will be something worth celebrating for during this Brick-versary.
"During our birthday this year, we want to thank our fans and guests for joining us on this incredible journey by rewarding them with the opportunity to rediscover the park and be immersed in experiences tailored specially for them," said Mr. Stocks.
For further information on promotions and activities, visit LEGOLAND® Malaysia Resort's official website www.legoland.com.my and stay connected with the resort via social handles (Facebook & Twitter) to find out more.