Monkey Around at LEGOLAND® Malaysia Resort this Lunar New Year!
Friday 22nd January 2016
Press Office
Lunar New Year, Events, Sales & Promotions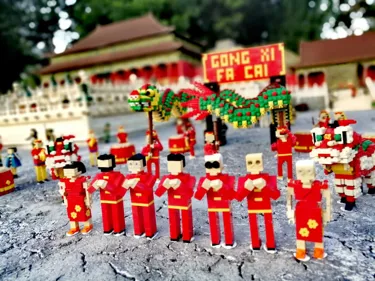 Monkey Around at LEGOLAND® Malaysia Resort this Lunar New Year!
Nusajaya, January 22 - Lunar New Year is the time for family, friends and maybe a little bit of fun thrown in – and as we get ready to welcome the year of the Monkey in, LEGOLAND® Malaysia Resort has plenty in store for all three! With the long weekend happening because of the festive period, this would be the perfect time to visit the resort for your own celebration.

On the first and second day of Lunar New Year on Feb 8 – 9, guests can expect a lion dance performance, along with a LEGO® Monkey Building activity which will run from 22 January till 14 February, 2016. Just what happens to all those monkeys? They are added to the park as it aims to set a record in the Malaysia Book of Records for the most number of Monkeys replica made of LEGO Bricks. Our target, 2,016 LEGO monkey replicas! During this building activity, each participant will get a Commemorative Lunar New Year DUPLO™ brick for their efforts. All the monkeys built at this time will be on display for guests to see at the Festive Stage, LEGO City. What's more, you'll also be able to do some meet and greet with Walking Character Minifigures around the park.

If you're not going bananas over the activities yet, here's one more – look out for as many LEGO bananas as you can find in the Miniland section (hint, they come in bunches)!
"Lunar New Year is quite a special time for our visitors, and we wanted to make sure that they'd be in the mood for this special occasion even at LEGOLAND Malaysia Resort! It's the perfect opportunity with the long weekend to come and celebrate at the park and hopefully our visitors will help us get into the Malaysia Book or Records with all their Monkeys, too," Mark Germyn, General Manager of LEGOLAND Malaysia Resort said.
LEGOLAND Malaysia Resort is open daily from 10am – 6pm throughout the festive period. For daily scheduled activities, please check the LEGOLAND Malaysia Resort website: www.legoland.my or call: 07-597 8888 / toll-free: 1 800 816 100.

Promotion
Since the celebration is all about friends and family, take the opportunity to enjoy the 'Bring a Friend for Half the Price' promotion and get a free limited edition Lunar New Year commemorative brick. This promotion will run from 12 January till 5th February 2016.
The 'Buy 3 Free 1' annual pass promotion is running from 12 January - 29 February 2016.
Retail promotion is running from 5th to 14th February with any purchase of LEGO products during this time; you'll also receive a LEGO® Angpow Packet and an exclusive year of the Monkey gift.
For Maybank cardholders, enjoy RM60 off when you purchase a minimum of four (4) tickets and you will also be entitled to get a get a free limited edition Lunar New Year commemorative brick.