LEGOLAND® MALAYSIA RESORT A TOP CHOICE FOR CO-CURRICULAR ACTIVITIES
Tuesday 2nd February 2016
Press Office
Sales & Promotions, Schools & Education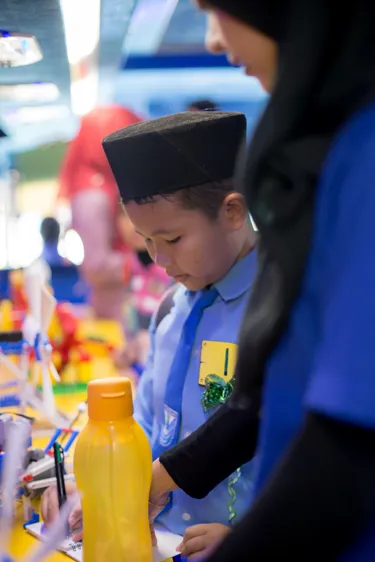 LEGOLAND® MALAYSIA RESORT A TOP CHOICE FOR CO-CURRICULAR ACTIVITIES
[Iskandar Puteri, 2 February 2016] - Working in collaboration with the Team Module Developer from Ministry of Education (MOE), Malaysia, LEGOLAND® Malaysia Resort has refined the English-based learning experience program, 'English Mania' to become its second host since its inception in 2014.
This partnership is part of the ninth shift in the 12 year long (2013 to 2025) Malaysia Education blueprint, which highlights the involvement of partnership with parents, community and private sectors at scale in building and supporting education as one unified body.

As one of the premier educational programs designed for both students and teachers, English Mania aims at transforming LEGOLAND Malaysia Resort into a huge outdoor classroom, providing an enjoyable learning platform for students to learn English, and incorporating elements of fun and adventure. The program leverages on LEGOLAND Malaysia Resort's interactive, creative and fun components – the ideal learning environment for students. Imagine exploring the castle in LEGO Kingdoms, or walking through the Minilands or even taking a ride in the land of adventure, all in the name of learning.

Students can expect a hands-on learning experience, while enjoying all the Park has to offer at the same time. Through the tasks and activities, students will learn to become more critical and analytical, achieving one of many goals in the Malaysia Education Blueprint. Teachers will also benefit from this program, as they would be trained to support this program in their own schools, as part of the 'post English Mania' program.
"LEGOLAND Malaysia Resort has proven to be the hub of learning and creativity, and this collaboration with them will take the experienced based education program English Mania to greater heights. Our belief is that it is important to have good communication skills, and learning English is one huge step forward in achieving that. We're hopeful that this success will pave the way to expand the English Mania program in the years to come, which would benefit as many students and teachers as possible." said YB Dato' P. Kamalanathan, Deputy Minister of Education, Malaysia.

This collaboration is a perfect complement to MOE's endorsement of the LEGOLAND Education Programme for Science, Technology, Engineering and Mathematics (STEM) – a specially designed education plan complimenting local syllabus with seven different types of challenge activities around the park highlighting the core of LEGO.

LEGOLAND Malaysia Resort General Manager Mark Germyn said, "We're very excited to launch English Mania here at LEGOLAND Malaysia Resort. We're honoured to be given this opportunity to collaborate with Malaysia's Ministry of Education, and contribute towards the education of the next generation. We're positive that with the activities lined up for the students, this would be a memorable learning opportunity that would help expand the imagination of students, and at the same time help them to learn English in a fun way."
After its launch at the Park, LEGOLAND Malaysia Resort and MOE hope this program will engage as many Malaysian schools as possible.

PROMOTIONS
From 15th Feb – 31st March 2016, teachers and educational officers can receive four complimentary Theme Park tickets when they registers for the LEGOLAND Education program briefing.
 Simply download the book form from the LEGOLAND Website (http://www.legoland.com.my/Tickets/Education-Workshops/Education-Promo/), which will be live on Feb 10.  The form then needs to be verified from the school or an education organisation.
 Choose the briefing session that you'd like to attend and submit the completed form to Sheila.Shamsuddin@legoland.my or Shahbudin.Wong@legoland.my, and then collect the tickets at the LEGOLAND Theme Park ticketing window - Ticketing Window One
 After attending the briefing session at the Mindstorm @ LEGO® Technic cluster hosted by the Education team, there'll be some free and easy time afterwards.