CELEBRATE HOLIDAY SEASON THE UNIQUE LEGO® WAY AT LEGOLAND® MALAYSIA RESORT THIS DECEMBER
Friday 2nd December 2016
Press Office
Events, Brick-tacular Holidays, New Attractions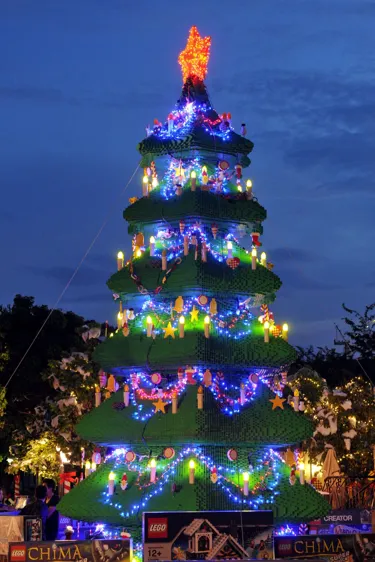 CELEBRATE HOLIDAY SEASON THE UNIQUE LEGO® WAY AT LEGOLAND® MALAYSIA RESORT THIS DECEMBER
ISKANDAR PUTERI, 2 DECEMBER 2016 – Embark on a Brick-Tacular journey with LEGOLAND® Malaysia Resort as it presents new rides, attractions, and activities this holiday season. Throughout December, guests are welcome to experience the specially set-up 'snow' village with machine providing the special snow effects four times a day, one-of-a-kind Christmas market that sells various festive items and, interactive and entertaining Christmas shows. Additionally, the resort will also be running an advent calendar activity that complements the lighting of its unique Christmas tree which in fact is the tallest in Asia, made entirely of DUPLO® Blocks. A spectacular 3D LEGO® fireworks display is also set to light up the resort's skies on the 31st of December, as LEGOLAND® Malaysia Resort ushers in a brand-new year.
"We have always intertwined our own unique LEGOLAND® twist into any of our celebrations and this holiday season, there's a host of exciting prizes to be won through our advent calendar activity. Mostly prevalent in Europe and a rare sight in Malaysia, the calendar features 31 windows, one for each day of the month. It presents one (1) lucky guest the chance to open a window at 7pm to win an attractive present. This year, our guests are in for a treat, as the prizes include a set of flight tickets for family of four (4) to Chiang Mai, various series of attractive LEGO® boxes including LEGO® Star Wars, NINJAGO™ and Christmas series to name a few, an array of exceptional hotel stay packages for families and so much more!" said Young Pil-Kim, LEGOLAND® Malaysia Resort's General Manager (Interim).
The advent calendar also functions as a countdown for the festivities this holiday season. It will be happening every day this month to offer a unique experience for the resort's guests in a true LEGOLAND®-style.
Adorned with lights and beautiful Christmas decorations this December, the resort has a host of fun-filled activities 'sleigh-ted' for the entire family. Santa will be seen riding on his sleigh accompanied by his trusty elven helper at select times, to delight its guests this festive season. As the Sleigh Parade will be giving away holiday candies and treats, everyone will have a little something to bring back from the resort. Beyond that, guests are also welcome to take pictures with Santa and his sleigh, to safekeep their memorable Christmas at LEGOLAND® Malaysia Resort.
Bringing the festive season to live, the resort will also be running a Christmas show called the Christmas Carl. Centring a grumpy teacher, Mr. Carl who is an absolute Grinch, the show sets the stage for an interactive and entertaining festive season here at the resort. Christmas Carl will be running a few times every day, throughout December.
Newest Attraction at The Resort: LEGO® NINJAGO™ The Ride
Launched just this November, LEGO® NINJAGO™ The Ride is the first of its kind in Asia and LEGOLAND® Malaysia Resort's latest hi-tech attraction. Don't miss out the fully immersive 4D dark-ride inspired by the highly popular LEGO® line of NINJAGO™ toys and TV series, as the ride allows guests to become their favourite characters and defeat the Great Devourer! What's more, the ground-breaking hand gesture technology by Triotech, defines the experience by letting guests throw virtual projectiles with mere hands. LEGO® NINJAGO™ The Ride provides an immersive experience like no other for everyone in the family
Upgraded Kuala Lumpur (KL) Cluster
There's no better demonstration of the boundless possibilities of LEGO® than the Miniland at LEGOLAND® Malaysia Resort. The newly upgraded Kuala Lumpur (KL) Cluster at the Miniland features various new architectures and serves as a must-see for the entire family at the resort from this month onwards.
For further information on promotions and activities, visit LEGOLAND® Malaysia Resort's official website www.legoland.com.my and stay connected with the resort via social handles (Facebook & Twitter) to find out more on online Brick-Tacular activities and promotions.