LEGO® DREAMZzz 4D movie
Every night, Mateo and Izzie enter the land of dreams. Join them as they travel through the dream worlds, have fun and party with their friends. But in the dream world, nightmares also lurk. Will the Night Hunter capture Mateo's trusty sidekick Z-Blob? Will our heroes rescue him from the clutches of the dreadful Nightmare King? 
Dive into this thrilling journey, a 4D world of your wildest dreams and have the adventure of a lifetime.
Book now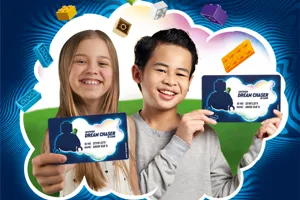 Build your dream world at LEGOLAND®
You can take part in LEGO® DREAMZzzTM adventure where you create the world of your wildest dreams! You have the chance to build your own LEGO creature for either the dream world or nightmare realm. 
Send your creature into the LEGO DREAMZzz world through our immersive portal and receive your ID badge.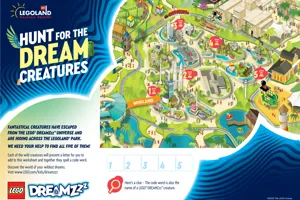 Hunt for the dream creatures!
Fantastical creatures have escaped from the LEGO® DREAMZzz™ universe and are hiding across the LEGOLAND® park.
We need your help to find all five of them!
Collect the worksheet at our Park ENTRANCE to join the hunt.