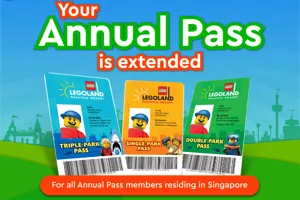 Annual Pass Extension Notice
In line with the government announcement on the border reopening, we are pleased to inform that our valued Annual Pass holders (non-Malaysian) will be granted up to 12* months of extension from border reopening period, to account for time lost due to border closure March 2020 in accordance with government direction and subject to the original pass expiry period.  
 *The length of the extension is computed based on your original expiry month and the lost period due to border closure since March 2020. These will be applied automatically, and you do not need to do anything to activate the pass.
*Please note that Extension period is based on the pass holder's registered address and this is based on Non-Malaysia registered passholders.
If you have any questions including your new expiry date, please feel free to reach out to our customer service team at +6 07-597 8888 or email online.booking@legoland.my
Thank you for your continued loyalty and understanding.