AWESOME NEWS!
We are happy to announce that we will be reopening the LEGOLAND Theme Park from 14th October and Water Park from 27th October. We encourage you to check our operating day and hours before you plan your next trip to LEGOLAND, as we will be implementing a one-day weekly maintenance closure for the LEGOLAND Theme Park and Water Park.
To thank you for your continued support, we have launched awesome deals for your trip to LEGOLAND Malaysia Resort. Our Annual Pass holders will be automatically granted an extension to account for time lost due to the temporary Resort closures in accordance with Government direction. 
That's not all. On your next trip to LEGOLAND, you will be one of the first to experience our brand-new attraction, Planet LEGOLAND®. It is an immersive build experience that encourages children and their parents to unleash their imaginations by building, unbuilding, and rebuilding the world of their dreams with, of course, LEGO® bricks. 
We hope to see you soon!
p/s Don't worry. We will be following the Ministry of Health's SOPs closely, such as only permitting entry to fully vaccinated guests (applicable to guests 18 and above). You can find all our on-premises SOPs here as well.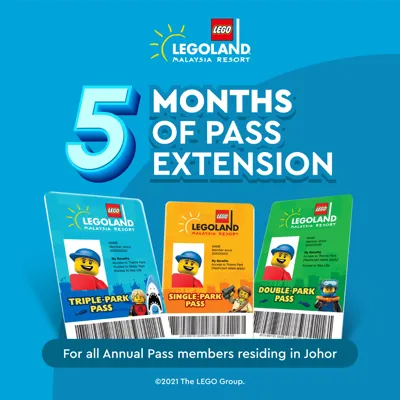 MORE AWESOME NEWS...!
In line with the announcement of LEGOLAND® Hotel and SEA LIFE Malaysia reopening, we are pleased to inform that our valued Annual Pass holders will be granted up to 5* months of extension**, based on both period of closure from May 2021 till reopening date under government directive and the pass expiry period.
 *Extension months are computed based on period of closure and the latest expiry month inclusive of previous extensions entitled by eligible pass holders.
**Please note that Extension period is based on the pass holder's registered address, in this instance this is based on Johor registered passholders. Extension announcement for passholders from other states will be made in due course.
Thank you for your continued loyalty and understanding.